Wartime : Sat 18:00
Guild : ORPHANS
Lvl : 10
Leader : HeartKing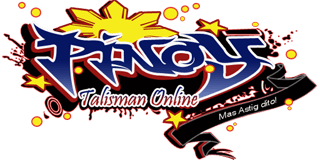 LOGIN SERVER is ONLINE
GAME SERVER is ONLINE
DOMINATEZ
KingdomOfDevils

King of PK Event System
February 14, 2018
Done Server Maintenance!!
Please Re Download the Game Client or the Manual Patch (
https://www.pinoytalisman.com/dlmanualpatch
) to get the latest Client Version 2.0.18.1.14 to avoid any bug related issues on your account.
Server Updates:
King of PK Event System
Event Time: Daily 20:00 Server Time (8:00PM Ph Time)
Event Location: NPC Senior PK Arena located at Stone City [320,-523]
Event Level Require: 99 to higher.
Event Description: Last man standing will be the "King of PK"
Prizes:
Loosers = 10 piso bound
Winner = 20 piso bound and King of PK Title (10 Increase damage, 10 Critical Damage, 10 Defense, 10 HP Upper Limit)
Thank You!!
PTO_Staff

x100 Piso (bound)

x200 Piso (bound)

Mirana Tiger +20(bound)

Dragon King (Mount)(bound)

Bloodthirster(bound)

Kinton Cloud(bound)

Wukongs Cloud(bound)

Black Dragon(bound)

Black Horse(bound)

Astig Points x100 (bound)

Astig Points x200 (bound)

Astig Blue Lightning Sword(bound)

Flame Bear(bound)

Heaven Flame Sword(bound)

Skull Rapier(bound)

Gorilla (Mount)(bound)

Giant Bee (Mount)(bound)

Sacred Pegasus (Mount)(bound)

Scorpion (Mount)(bound)

Wizard Male Wings(bound)

Monk Wings(bound)

Fairy Wings(bound)

Assassin Wings(bound)

Tamer Wings(bound)

Wizard Female Wings(bound)

Azure Flame Phoenix (Mount)(bound)

Gryphon (Mount)(bound)

Manticore (Mount)(bound)

Metalic T-rex (Mount)(bound)

Blood Ghost(bound)

WPP 7D (bound)

WPP 30D (bound)

West-Point Token (bound)

Wedding Ring (bound)