Wartime : Sat 18:00
Guild : OldGuard
Lvl : 10
Leader : Madox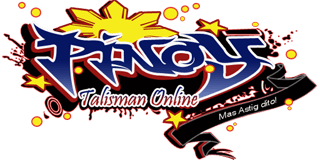 LOGIN SERVER is ONLINE
GAME SERVER is ONLINE

Halloween Treats
PTO Halloween Treats 2019
Events:
1. Lucky Comment
Event Location: www.facebook.com/PinoyTalismanOnline
Date: Oct. 24 to Nov. 2, 2019
Prize: Special Mounts, your choice, you can get one.
a. Gorilla Bound +20
b. Scorpion Bound + 20
c. Giant Bee Bound +20
d. Manticore Bound +20
e. Gryphon Bound +20
f. Metalic T-Rex Bound +2
Description: Comment your Character Name (correct spelling) and the mount you wanted below this picture. One FB Account is for one player only. Multiple entries will lead to disqualification. We will choose only 6 LUCKY PLAYERS.
We will send the mount to the lucky players through mail in game on November 2, 2019.
2. Crazy Gift Code Release
Date: October 31, 2019
Time: 9:00AM (Phil Time)
Event Location: PTO Official Website (www.pinoytalisman.com)
Description: Will release 50 Gift Codes with random amount of Gift Points that will be uploaded in PTO Facebook Fan Page.
Get the codes (23 letters/numbers) and enter it to your Gift Code on your Account Log In Section at http://www.pinoytalismanonline.com/ to get Free Gift Points.
Important:
* If the codes are already used by other players it will no longer available.
* You can only enter correct codes again after 3 minutes.
3. Halloween Treat
Location: In Game.
Date: Nov. 1, 2019 @ 10:00pm Phil Time
Halloween Insertion of some items like AMV Bound, Piso Bound, and EP, WE and GE.
4. Who Are You???
Date: November 2, 2019
Time: 2:00PM (Phil Time)
Event Location: In Game
Description: Arrange the shuffled PTO NPC Names.
The first player who will type the correct answer will win.
Prizes: 500 PTO Points, 200 Piso, 10 AMV
You will receive your price through mail in game after the event.
8 shuffled PTO NPC Names in this event.
PROMOTION:
Additional 20 of DP in Every Donations
Oct. 28 to Nov. 2, 2019 ONLY
Thank You!
PTO_Staff

Niulang (Pet)(bound)

Skill Book (Dmg Inc)(bound)

Skill Book (Dmg Abs)(bound)

Tiger (Pet)(bound)

Bull (Pet)(bound)

Skill Book (Bash)(bound)

Monkey Man (Pet)(bound)

Little Bat (Pet)(bound)
Chimera (Pet)(bound)

Little Manticore (Pet)(bound)