Wartime : Sat 18:00
Guild : Legends
Lvl : 10
Leader : JoKeR2002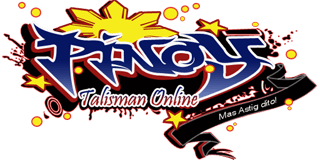 LOGIN SERVER is ONLINE
GAME SERVER is ONLINE
Refer Friend
Refer a friend to play Pinoy Talisman Online through "REFER FRIEND SYSTEM", you will not only enjoy the game together with your friends but will also get both of you a Donate Points bonus.

Use your personal referral link to invite a friend:

Referral Link : Please login your account to see your referral link

Copy this link and send it to your friends. You can also send it through Facebook, Twitter, or email.

When someone uses your referral link to register and donate for DP you will earn 10% of DP each donation.

Example:
Your friend Donates 1,000 DP, you will earn 10% of it, equivalent to 100 DP for FREE. And your friend will also get 5% of the donation he/she made.

The More invites the more FREE DP you will earn. Invite Now!!

Moonshade Sun DS DUAL-S (Wizard)(bound)

Moonshade Moon DS DUAL-S (Wizard)(bound)

BoneCrusher Sun DS DUAL-S (Monk)(bound)

BoneCrusher Moon DS DUAL-S (Monk)(bound)

Nirvana Sun DS DUAL-S (Assassin)(bound)

Nirvana Moon DS DUAL-S (Assassin)(bound)

Sanctity Sun DS DUAL-S (Fairy)(bound)

Sanctity Moon DS DUAL-S (Fairy)(bound)

Avenger Sun DS DUAL-S (Tamer)(bound)

Avenger Moon DS DUAL-S (Tamer)(bound)

Moonshade Sun DS VIT (Wizard)(bound)

Moonshade Moon DS VIT (Wizard)(bound)

BoneCrusher Sun DS VIT (Monk)(bound)

BoneCrusher Moon DS VIT (Monk)(bound)

Nirvana Sun DS VIT (Assassin)(bound)

Nirvana Moon DS VIT (Assassin)(bound)

Sanctity Sun DS VIT (Fairy)(bound)

Sanctity Moon DS VIT (Fairy)(bound)

Avenger Sun DS VIT (Tamer)(bound)

Avenger Moon DS VIT (Tamer)(bound)