Wartime : Sat 18:00
Guild : Legends
Lvl : 10
Leader : JoKeR2002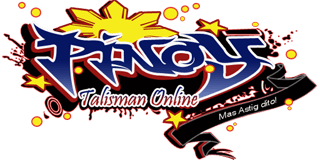 LOGIN SERVER is ONLINE
GAME SERVER is ONLINE

New PTO Client
April 20, 2021
Attention PTO Players!
Updated Version dated April 12, 2021 of PTO Client is now available to download at website. To get the latest client please follow the steps.
1. Uninstall first the old PTO Client. (To avoid any conflict)
2. Download the updated version here &gt
http://pinoytalisman.com/downloads
3. Install the client.
After the future maintenance (future server updates) old client will not be able to connect to the server, so you need to download the latest one.
Need help?
Feel free to ask us at yahoomail (
[email protected]
) for support.
Thank You!
PTO_Staff

Saint Ring

Saint Amulet

VIP Golden Light Pill x99

VIP Apothecary Pill x99

VIP Blue Light Pill x99

VIP Volcanic Pill x99

Carol Pill of All x99

Chibi Wizard (Perm)(bound)

Chibi Assassin (Perm)(bound)

Chibi Monk (Perm)(bound)

Chibi Fairy (Perm)(bound)

Chibi Tamer (Perm)(bound)

Chibi Wizard Female (Perm)(bound)

Mystic DS (Wizard Set Gear)(bound)

ShineGuard DS (Monk Set Gear)(bound)

Teragrace DS (Fairy Set Gear)(bound)

Forcium DS (Assassin Set Gear)(bound)

Osmium DS (Tamer Set Gear)(bound)

Purge Crystal

Little Dolphin(bound)

Thorn Rapier(bound)

Surfboard(bound)

Ice Floater (Mount)(bound)

Earth Floater (Mount)(bound)

Jade Deer (Mount)(bound)

Mahout (Mount)(bound)

Sand Gourd (Mount)(bound)

Winged Rapier (Mount)(bound)

Dark Knight Ray (Mount)(bound)

Black Turtle (Mount)(bound)

Wind Floater (Mount)(bound)

Pumpkin (Mount)(bound)

Fire Phoenix (Pet)(bound)

Ice Beast (Pet)(bound)